I finally got the
PRS Guitarbud
iPhone guitar cable yesterday (Thanks Jeremy!).
This cable is just perfect!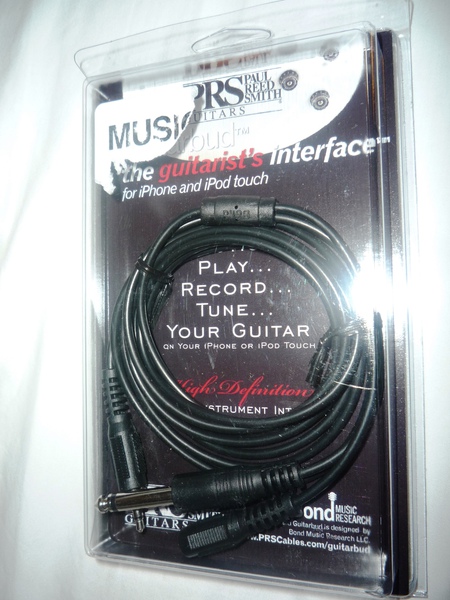 Before the annnouncement of the product last month, I was wondering if anyone would ever bother themselves to produce this kind of cable...
I've tried to "combine" one on my own using commonly available audio cables and connectors..
But there are serious crosstalk issues because of the quality of the cable..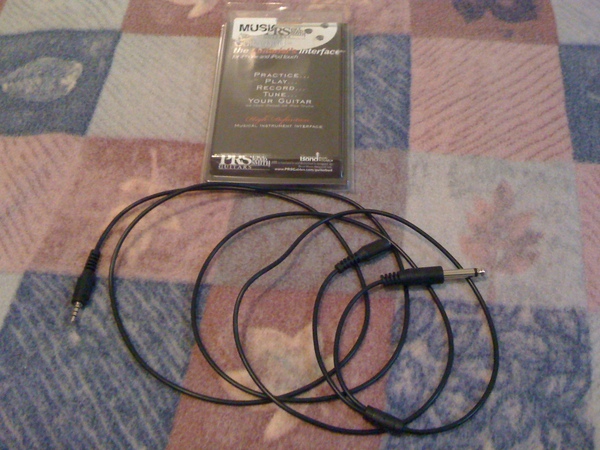 Maybe the cable looks like cheap ones in the market, but I have to say that the build quality is very robust.
I can plug this cable to my iPhone 3G without any problem.
(I noticed some reviews on the web complained about this, but there is not any problem for me)
The length of cable is more than enough to make the users put iPhone at any places they like for control convenience.
Of course I don't notice any crosstalk effect using the cable.
Overall I am very pleased by this cable! It is just the cable that I want.
The web reviews also mentioned about the input level.
Yes, I think the input level of the electric guitar is higher than the range that iPhone can handle.
If you turn your volume on your guitar to the highest, you will get your guitar signal clipped in the app (so you hear the guitar always distorted).
I have to say that this is just a problem which could not be solved by the apps.
Therefore, the only way is TURNING YOUR GUITER VOLUME DOWN TO AVOID CLIPPING.
But it might affect the tone of your guitar (cut in high frequency).
I suggest you modify the electronics of your guitar.
To play your guitar with iPhone using this cable, you have to install some apps on your iPhone.
You can tune your guitar using GuitarToolkit or any other tuners, play with effects and looper using StompVox, record the guitar using built-in VoiceMemo or any recorder app, and share your riff using Riff Raters.
I played with some apps available in the App Store and here are some brief reports which focused on Effects / Amp Simulations.
(About the problem of glitches/ delay, I am currently using iPhone 3G, maybe iPhone 3GS can perform better)
PRS JamAmp ($9.99)
http://www.prscables.com/prsjamamp/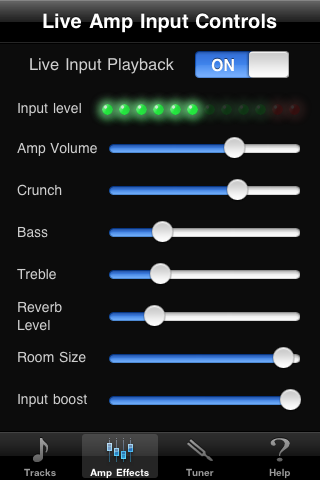 This is the app which is officially recommended by the cable.
It provides smooth guitar amp simulation without much glitches.
But the sound latency is noticable, which seriously affects the usability.
I can avoid the latency by turning up input boost to full (I wonder why this affects the latency), but it makes me even harder to get clean guitar tone.
The overdrive tone is acceptable and playable, though I am not quite satisfied enough
You can't get modern distortion tone from this app. (which meets the tone range of PRS amplifiers?)
The tuner latency is even higher that made me notice a significant amount of delay in pitch displaying...
Dunno if it's because my phone is not 3GS.. GuitarToolkit has a better tuner for me.
I haven't tested the player yet, since I am already quite satisfied by Amazing Slow Downer.
IMHO I would not keep this app in my phone if it doesn't have a good PRS guitar app icon... :P
You can check out the PRS JamAmp video at:
http://www.facebook.com/video/video.php?v=291115986399
iRock ($16.99)
http://irock.marks-studio.dk/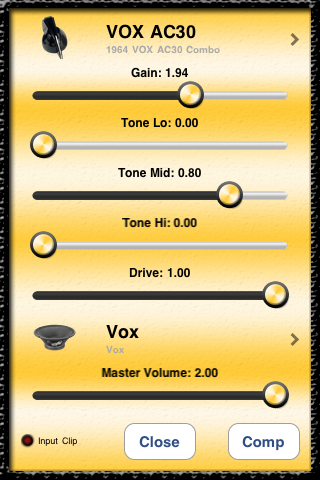 This is an even more expensive app in the store...
But as a dedicated amp simulation app, it provides better sound quality as well as more cab / effect options.
The audio buffer is tweakable, and I can set the buffer to highest value to avoid glitches without getting the sound delayed.
Noisy hiss can be heard if the gain is turned up high, but it is avoidable to turn down the high to zero.
You can get nice classic drive sound from iRock. I personally love the AC30 tone.
it is not easy to get modern distortion in this app as well.
It provides tap tempo and note divide for delay, very professional.
If you want to try the app, you can download free iRockPlayer, which plays a well-played guitar clip instead of accepting live input.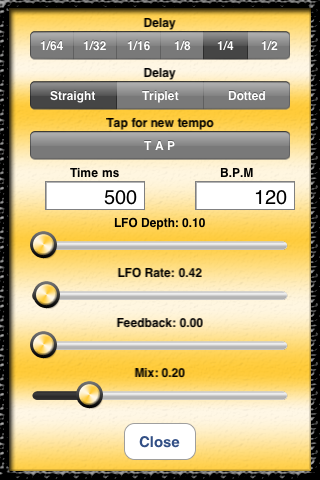 StageFeaver (Guitar FX Deluxe)
http://trialanderrordevteam.de/iPhone/Guitar_FX.html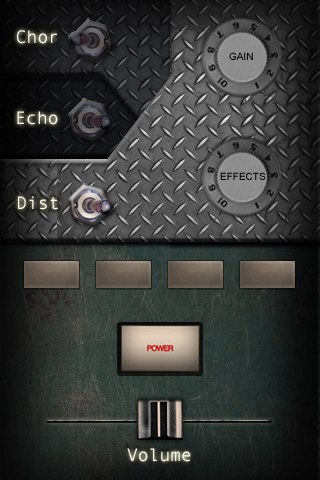 StageFeaver or Guitar FX Deluxe? I think these two apps are basically the same... let me know if I am wrong :P
The app provides 3 types of effects (distortion, delay, chorus, 10 modes of each) in relatively simple interface.
But the sound glitches a lot if I turned on more than 1 type of effect...
The distortion effect provides 10 sounds, but some of them are just too raw...I think it needs some cabinet simulations...
Maybe just like the demonstration video, it is better to use this app for miking guitar sound than direct input.
Please feel free to share your experience with me :-)